Posted on
By IRL Game Shop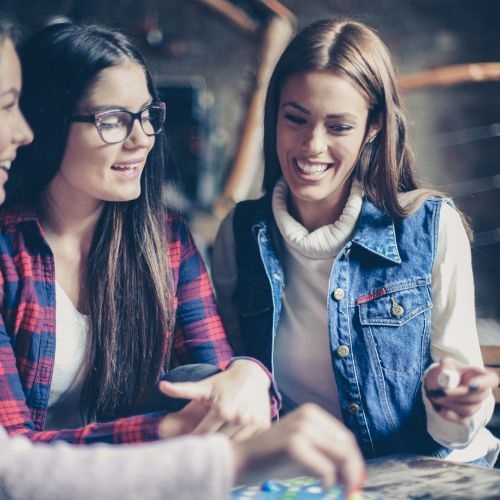 Looking to dive into the world of board games but not sure where to start? Welcome aboard! From strategic classics to hilarious new favorites, we've handpicked a list of beginner-friendly games that guarantee endless hours of fun and camaraderie. Step into the exciting realm of board games and discover your new favorite pastime right here!
Board games, with their mix of strategy, fun, and camaraderie, are an excellent way to foster relationships while simultaneously offering a delightful pastime. For novices stepping into the vast universe of board games, the starting point can be somewhat daunting. Here's a rundown of some of the finest introductory board games that are sure to spark joy and stimulate your strategic thinking.
Ticket to Ride: Your Ticket to Fun
Ticket to Ride has etched its place as a staple in board game collections due to its simplicity, yet intriguing strategy. As players aim to construct expansive train routes spanning the U.S., the game balances simplicity for young minds and strategic depth for adults, making it an enjoyable ride for all.
Catan: Embark on Your Adventure
The much-loved game of Catan is a perfect entry point for newcomers. The quest to build settlements, roads, and cities while gathering resources on the picturesque island of Catan serves up a blend of ease-of-play and strategic depth.
Settlers of Catan offers endless entertainment, thanks to its high replayability factor. The game's blend of strategy and simplicity makes it a crowd-pleaser among both friends and family. No two games are alike, ensuring you're always in for a fresh, exciting experience.
Pandemic: Teamwork Saves the Day
Pandemic is a cooperative board game that brings players together to combat global pandemics. This game is a fantastic tool to foster teamwork and enhance problem-solving skills while keeping the thrill level high with its challenging gameplay.
Forbidden Island: The Race Against Time
Another engaging cooperative game, Forbidden Island, entices players with the thrilling task of retrieving four sacred treasures from a rapidly sinking island. The blend of teamwork, strategy, and suspense makes it a hit among families and friends.
King of Tokyo: Battle for Supremacy
King of Tokyo offers a fast-paced, easy-to-learn game where players vie to reign supreme as the King of Tokyo. This game hits the sweet spot between simplicity and replayability, making it a staple for all ages.
Exploding Kittens: A Blast of Laughter
Exploding Kittens is a riotous card game with one simple objective - avoid drawing the exploding kitten card. With its hilarious premise and straightforward rules, it's an instant hit that offers belly laughs aplenty.
Codenames offers a fun challenge as players strive to relay clues to their teammates while maintaining secrecy from opponents. Its blend of communication, secrecy, and replayability make it a preferred choice for groups.
The Mind: Silent Cooperation
The Mind offers an intriguing twist with its silent gameplay, where players aim to play their cards in sequence without any verbal communication. This game enhances teamwork and problem-solving skills, all while keeping players on edge with its challenging premise.
Splendor: The Jewel of Board Games
Splendor, with its stunning design and simple gameplay, allows players to gather gems and acquire valuable cards. Its ease of learning and high replayability make it a sparkling addition to any board game collection.
These are just a glimpse into the vast array of engaging board games available at your friendly neighborhood IRL Game Shop. With a multitude of games catering to varied tastes and levels, you are bound to discover the perfect game for your next fun-filled game night.